Marketing doesn't have to be giant billboards and TV advertisements if you don't want it to be, with the advent of Guerrilla Marketing. 
There are many different forms of Guerrilla Marketing, suiting all types of budgets and sizes of business. Here, we dive into what that means and how it can be used for your business in the Bromely Borough. 
What is Guerrilla Marketing
Guerrilla Marketing is a form of unconventional, surprising, or novel marketing that intends to shock or surprise the audience. 
Guerrilla Marketing drives publicity and brand awareness through tactics that an audience might not expect. By shocking and surprising, this type of marketing gets people talking in a way and at a volume that may not otherwise have been achieved. 
Guerrilla Marketing works on pure imagination and creativity, with businesses that use it often having to work with a smaller budget. 
This form of marketing is high risk but high reward. As the tactics can be disruptive, there is the chance of negative publicity. However, if carried out effectively, the yield can be incredible for businesses of all sizes. 
The aim is to reach a large audience or pique the interest of an audience that wouldn't otherwise be engaged. 
Origins
Jay Conrad Levinson first used the term in his 1984 book 'Guerrilla Advertising', which has sold over 21 million copies worldwide. 
The term was inspired by the guerrilla warfare tactics of rebels and armed civilians, which were unconventional and typically involved tactics such as sabotage, ambush, and covert raids. 
Guerrilla Marketing applies the same principles, working with minimal budget and aiming to achieve significant results without larger organisations' resources. 
Who Should Use Guerrilla Marketing?
Originally, Guerrilla tactics in marketing were used by smaller organisations looking for a way to increase their reach and brand awareness without the budget of larger companies. 
Larger organisations use Guerrilla Marketing, but some don't consider this to be true Guerrilla Marketing as they already have the audience that a smaller business would aim to reach. 
The danger for larger organisations is the potential for a failed guerrilla campaign. The concept is high risk but has high rewards, but it can generate negative PR if the campaign flops. The advantage for smaller businesses is that the fallout is minimised as they don't have the reach an established brand already has. 
Guerrilla Marketing can be perfect for smaller businesses looking to have a significant impact at a fraction of the cost of a high-profile ad campaign. Further down this page, we look at some great examples of marketing on a budget and how they suit smaller businesses.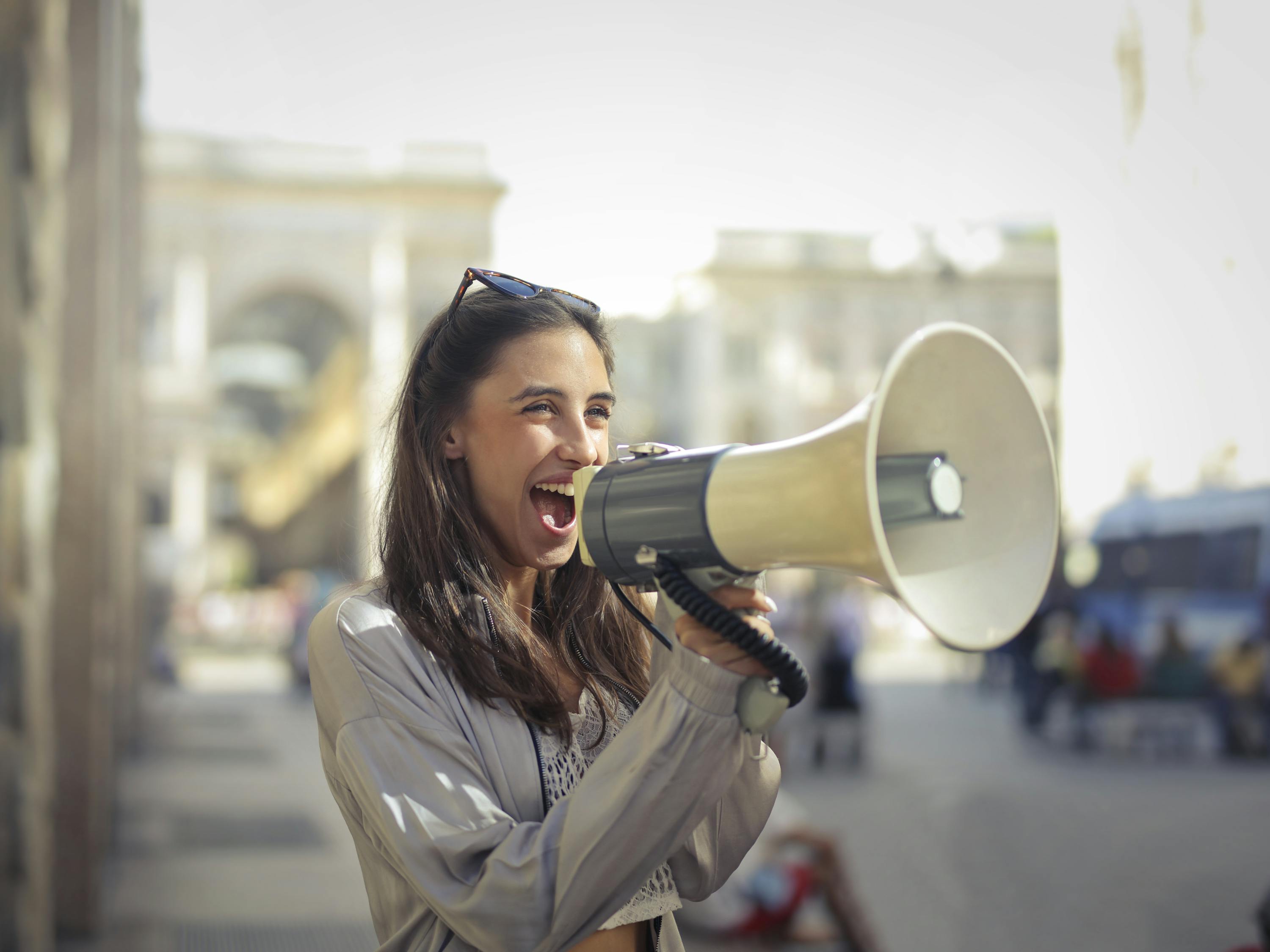 Benefits of Guerrilla Marketing
For growing organisations looking to have an impact without the expense, there are several benefits to be enjoyed. 
If carried out effectively, Guerrilla Marketing can be highly advantageous. Below, we take a look at some of the key benefits of these tactics. 
Low Budget – The most appealing benefit of Guerrilla Marketing is that it doesn't have the same cost attached to it that TV advertising or billboards do. You can achieve the same kind of reach, in a smaller amount of time, for a fraction of the price. 
Generates Conversation – Shocking or surprising marketing campaigns or social media strategies get consumers talking and telling their friends and families about what they've seen or heard. By doing something worth talking about, you generate word of mouth marketing – the cheapest form of marketing. 
Direct Access to Audience – With traditional marketing campaigns, there is often a price attached to reaching your target audience at the perfect time. With Guerrilla Marketing, you can access your chosen audience at the ideal time and in the correct location. So, for example, you could target a busy high street at peak shopping time to advertise a new food product – appealing to a mass market without having to pay for the airtime. 
Unforgettable – Guerrilla Marketing is designed to be unorthodox and appear in places people would not normally expect to find advertising. By catching your audience unaware, they are more likely to remember what they've seen, creating brand awareness. 
Builds a Brand Image – Part of the beauty of unorthodox or quirky marketing is that consumers can feel like they've had an enjoyable interaction or experience with your brand. So, you can make your brand memorable, fun, and unique – or build your image in any way you like as you're in complete control. 
Types of Guerrilla Marketing Strategies
There are several main types of Guerrilla Marketing strategies, from low impact to high impact and from a lower budget to some with additional expense attached. 
Below, we look at some great examples of Guerrilla Marketing strategies. 
Event Ambush Marketing – Ambush marketing capitalises on the publicity or footfall another event has already generated. For example, posters in tube stations at Wembley Tube Station on the day of a football match would capitalise on the footfall already there, without the permission of existing organisers or sponsors. 
Ambient Marketing – Ambient marketing relies on advertising material being placed on all available surfaces. This could be petrol pumps, doors, elevator walls, taxi interiors, and almost anywhere you can think of. This is particularly effective as a broad audience will see the material, but it is not as targeted. 
Paid Endorsements – Paid endorsements, or Astroturfing, is the most controversial and high-risk form of Guerrilla Marketing. Paid endorsements involve paying a group of people for fake endorsements, testimonials, or reviews. Astroturfing means generating artificial interest and positive conversation around a product or service to build a following. It is high risk as the downside is that your actions will generate negative PR and put off potential customers if you are found out. 
Buzz Marketing – Whereas Astroturfing involves generating fake reviews and conversation, Buzz Marketing means promoting positive stories that involve your brand. For example, this could mean sharing Tweets that mention your brand in a positive light, whether indirectly or directly. 
Grassroots Marketing – Grassroots marketing involves connecting with your audience on a smaller scale, at a personal level. Particularly useful for smaller businesses, Grassroots marketing means sending a refined message to a smaller group of people to get them to spread the message organically. This makes it an extremely cost-effective option. Further, this form of marketing could include participating in local events and supporting good causes to boost the brand image without spending a significant amount of money. 
Stealth Marketing – Stealth Marketing targets an audience without them knowing they are being marketed to through subtle techniques. This often involves product placement or undercover marketing. This strategy is more about creating brand awareness than driving sales initially. 
Street Marketing – Street Marketing is where surprise and unorthodox methods come into play. As with Stealth Marketing, this strategy is about creating brand awareness and attention rather than immediate sales. Street Marketing is all about catching consumers unaware and targeting them in places they would least expect to be marketed to, such as a flash mob in a high street. 
Is Guerrilla Marketing for You?
Guerrilla Marketing is incredibly varied, with something for businesses of all sizes and budgets. 
Particularly effective for smaller businesses, these strategies could be for you if you're looking to create some brand awareness and grow your following. 
It takes thought, imagination, and creativity instead of monetary expense but can pay significant dividends when carried out in the right way.